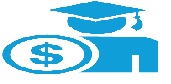 STUDENT MUTUAL AID
Agenda – To provide financial relief to needy students.
Details - Students fill in an application form distributed after notices are displayed and announced in the college. The applicants and the information in their forms is kept confidential. The Student Mutual Aid is provided from the fund collected from students during their admissions. The amount collected per student (Degree College (Aided and Self Financed) = Rs 100 and Junior College=Rs 50) is listed in the fee receipt.
The fund is disbursed once every academic year. The beneficiary students can also avail of the fund all the years they are bonafide students of the College.
The amount is distributed equally to all the student applicants. In some exceptional cases the amount given may be more, depending on the case, and the discretion and consensus of the committee.
The amount disbursed varies from year to year depending on the total student enrolment and the number of student applicants in a particular year.
Committee Members:
Ms. Rita Chettiar<
Ms. Joyce Kurian<
Dr. Jamson Masih<
Ms. Manisha Tribhuvan<
Ms. Savita Tilak<
Mr. Kavish Kasbekar<
Ms. Vinita Mathew (Convenor)<

Activities – Not Applicable
Photographs - Not Applicable

John Wilson Education Society's Wilson College has a long standing history. Founded by Dr. John Wilson, the founder of Bombay University, in the year 1832. Wilson College has a NAAC "A" Accreditation since 2005.