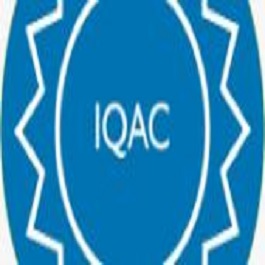 IQAC
NAAC Re-accreditation and Re-assessment Report 2011-2017
Internal Quality Assurance Cell (IQAC)
IQAC was established on 20.6.2004
Completed three NAAC cycles and accredited successively with 'A' grade
Chairperson: Dr. Anna Pratima Nikalje
Coordinator: Dr. Anjali Masarguppi

Objectives –
To prepare, adopt and continuously assess Academic and Administrative quality benchmarks
To design strategies for mobilising and augmenting resources for capacity building of Students and Staff
Important functions of the IQAC
Development and application of quality benchmarks
Parameters for various academic and administrative activities of the institution;
Facilitating the creation of a learner-centric environment conducive to quality education and faculty maturation to adopt the required knowledge and technology for participatory teaching and learning process;
Collection and analysis of feedback from all stakeholders on quality-related institutional processes;
Organization of inter and intra institutional workshops, seminars on quality related themes and promotion of quality circles;
Documentation of the various programmes/activities leading to quality improvement;
Acting as a nodal agency of the Institution for coordinating quality-related activities, including adoption and dissemination of best practices;
Development and maintenance of institutional database for the purpose of maintaining /enhancing the institutional quality;
Periodical conduct of Academic and Administrative Audit and its follow-up
Preparation and submission of the Annual Quality Assurance Report (AQAR) as per guidelines and parameters of NAAC.
Activities –

Under Faculty Development Programme, a workshop on FLIPPED CLASSROOM was organised in the IT lab for degree college teachers on 27th October, 2018.
On 27th November, 2018, P. Sekhar, Chairman at Micro Tech Global foundation for National Growth was invited to speak on 'Academia and Industry Networking and Interaction'.
Organised Self-defence workshop for students and staff on Tuesdays and Wednesdays from 9th January, 2019.
Organised a 'Youth for Green Fest' as an ISR activity on 14th and 15th February, 2019. It consisted of Competitions, Workshops and sessions and Model United Nations by Wilson College Rotaract Club.
A session on 'Leadership in Cross Cultural Context' by Prof. Olaf Zylics, University of Warsaw, was organised in collaboration with Political science Association on 26th February, 2019 for Third Year students of all faculties.
Certificate Course conducted by various departments : Local Diversity , Research methodology in Social Sciences, Disability Studies, Local Culture, Paramedical Course, Indian Script and Numismatics, Astronomy, Saral Hindi.
Members of Committee:

1.Chairperson - Head of the Institution:-
Principal - Prof. Dr. Anna Pratima G. Nikalje

2. Teachers to represent all level:-
a. Mr. S. Solomonraj
b. Dr. Sakina Bootwala
c. Dr. Michelle Philip
d. Ms. Radhika Birmole
e. Ms. Vinita Mathew
f. Mr. Michael D'souza
g. Dr. Devdatta Lad
h. Mr. Sadik Mohammad

3. One nominee from the Management:-
a. Dr. T.A. Shiware (Director of Education, JWES)

4. Few Senior administrative officers:-
a.Dr. Ashish Uzgare (Vice Principal)
a. Dr. Jamson Masih (Treasurer)
c. Mr. Pradeep Abhyankar (Registrar)

5.One nominee each from local society, student and Alumni:-
a. Dr. S.R. Nalwalla - (Local Society)
b. Dr. Zuleika Homavazir - (Alumnus)
c. Phoebe George (Student)
d. Maryam Sayed (student)

6. One/Two nominees from Employer/ industrialist/ stakeholders :-
a. Mr. Solomonraj - Advisor Hinduja group
b. Mr. Nikhil Kamat - industrialist

7. One of the senior teacher as the Co-ordinator/ Director of IQAC:-
Dr. Anjali Masarguppi

Invitees:-
1. Principal - Dr. Ananda Amritmahal (Sophial college)
2. Prof. Agnelo Menezes (St.Xavier's College)
3. Dr. Sybil Thomas (Mumbai University)


John Wilson Education Society's Wilson College has a long standing history. Founded by Dr. John Wilson, the founder of Bombay University, in the year 1832. Wilson College has a NAAC "A" Accreditation since 2005.